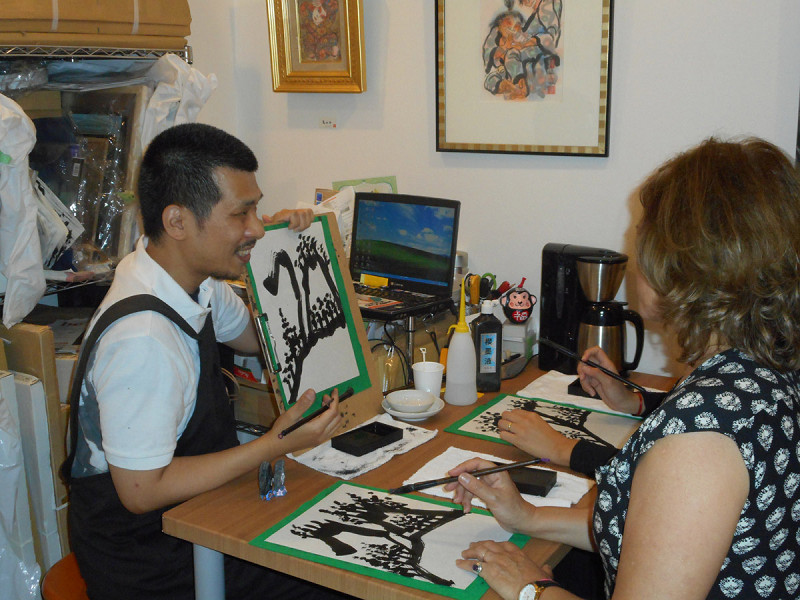 In this activity, you'll be taught how to paint bamboo, san-sui landscape, and more in sumi-e painting. You'll paint 4-5 pieces in an hour in the class.

What is special? / Sumie Workshop

There is no mistake in sumie painting, especially in the sumie class. Sumie can make you free from all including sadness and bad mood and so on. Adults and children can enjoy painting together at the same moment. It also makes you go over the all walls of generations, nations, genders, and more. Sumie is easy and simple and interesting, so we can do it easily. In this point, it could be called Momentary Painting. That's because children can paint 10-20 paintings in an hour and they can keep their concentrations in the entire class without any boring. That's amazing things. Please check out about Children in usual. You can find the sumie class great. Anyway, Sumie is so fun and easy, and simple.
That makes you have fun. That makes you glad and happy. That makes you smile naturally. Why not do it?

Let's have some fun with sumi-e painting!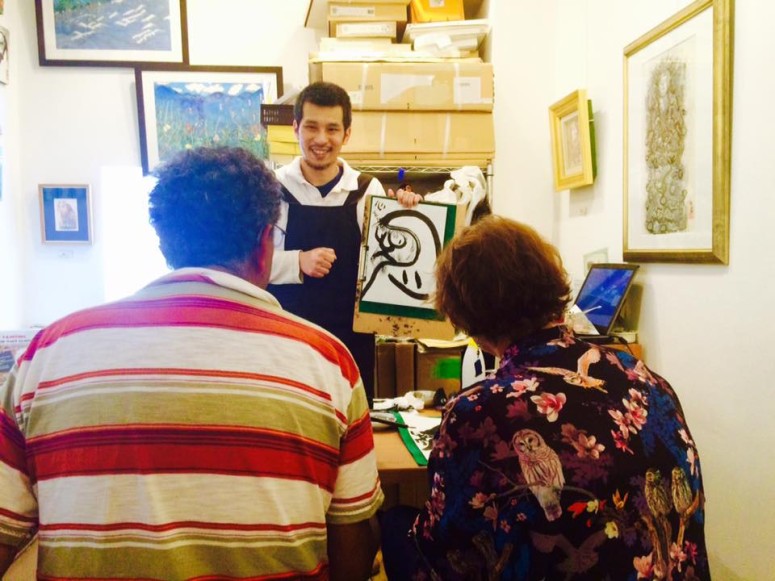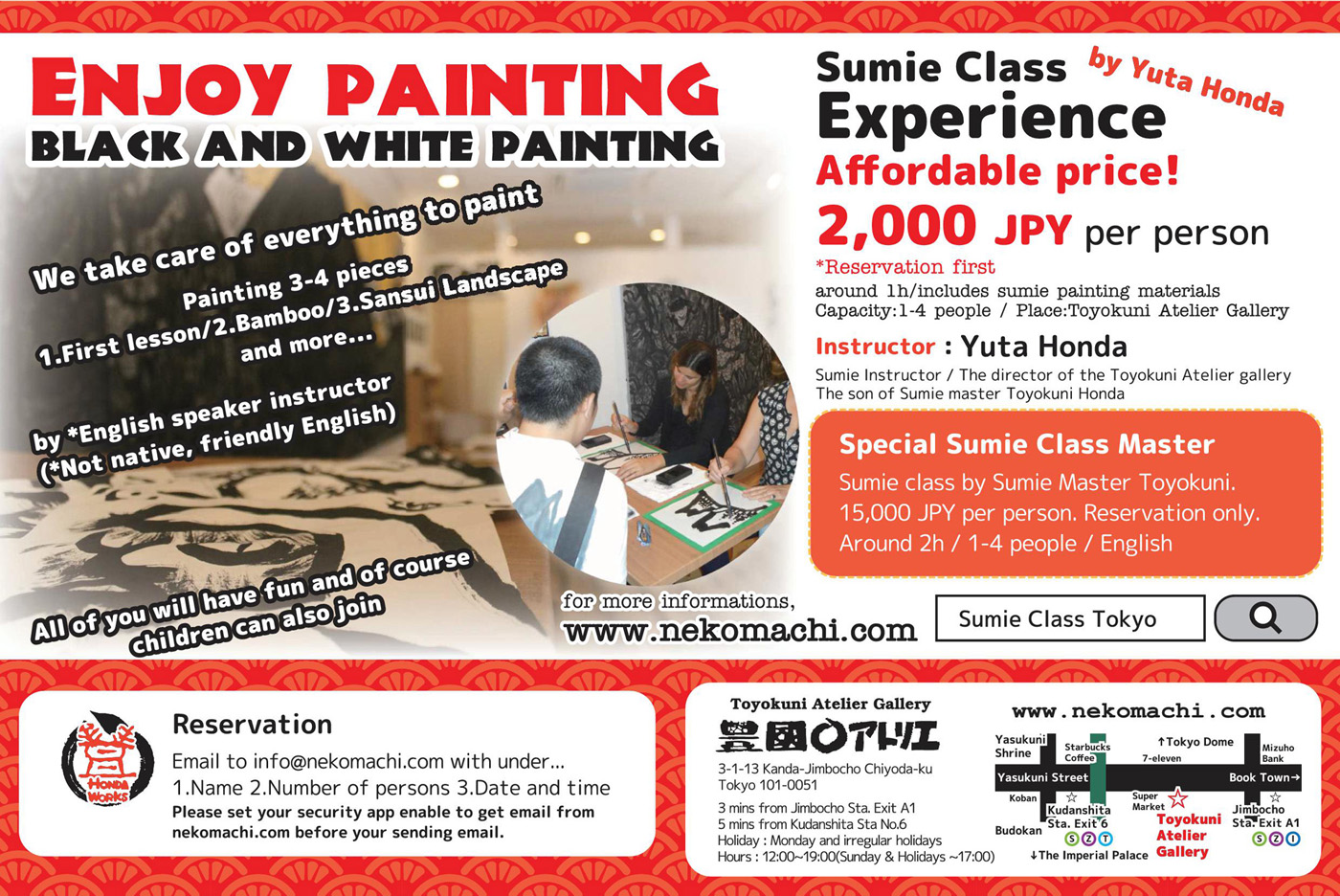 Details
Cost : 2,000 yen per person (1h)
Includes materials and art instruments.
Starting Time : 13:00/15:00
Please check out our web site for the information of the store open/close.
Location : Toyokuni Atelier Gallery
Capacity : 1-4 people
Place : Toyokuni Atelier Gallery (Map & Directions)
Instructor : Yuta Honda (the master of the gallery)
Credit card : Accepted(VISA, Master Card, American Express)



Attention :


Please just bring yourself. We take care of everything to paint. And please come in older clothing - Your clothes may get some paint on them. English speaker is available.


Reservations and Inquiries
Toyokuni Atelier Gallery by HONDA WORKS
>>> info@nekomachi.com
Please make a researvation for the sumie class on email. Please let me know 1.Your Name, 2.Numbers of persons, 3.Date and starting time.
*Please st your security app enable to get email from nekomachi.com before your setting email.


Review
Sumi-e Class "Experience" English
"First time experience SUMIE" English
To the organizers

I have the PDF files for you to hold the sumie event. It has about the cost, the preparations, and the details. Please don't hesitate to ask me about.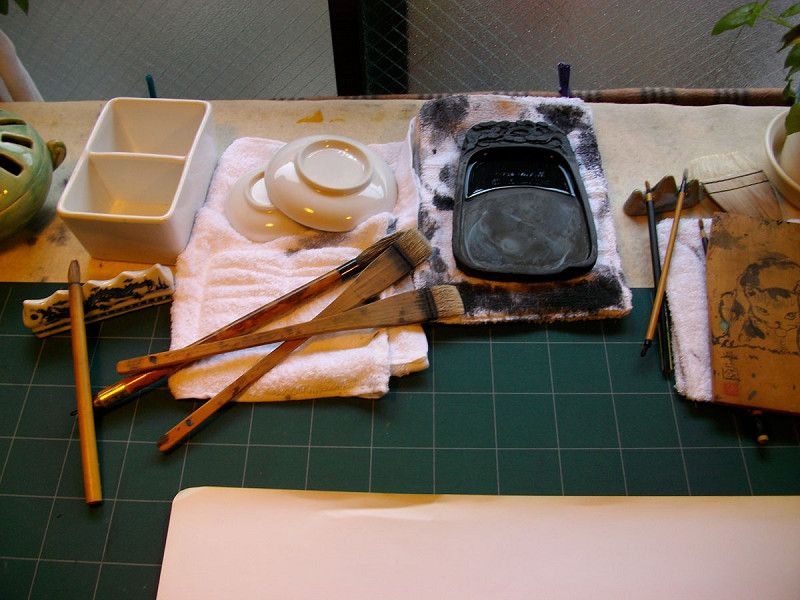 What is Sumie painting?
Sumie is known as Ink Wash Painting or Black And White Painting in the world. It's the one of the traditional ways of painting in Japan. Sumie is painted in Indian Ink with brushes on Japanese unique paper. Usually, it is expressed drawing lines and making gradations and a few coloring by Japanese pigment colors. When Sumie painters express something, they are trying to make the motifs symbolized simply, because there is not any lines in the world indeed. We can feel lines but no lines exist. So they need to symbolized anything they paint.
That is very interesting point of Sumie painting. That means when we do a sumie painting, we paint all in our heads before expressing. We complete it at once in our heads. That's why children also has so much fun with adults at the same moment. I found it a few years ago, so I can understand I should have the sumie class Experience and Doodle for all over the world.