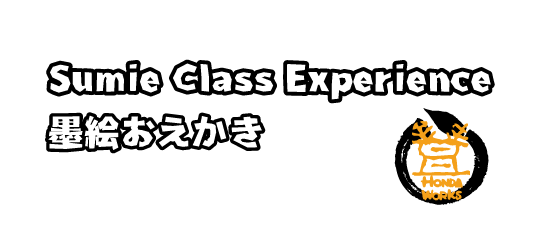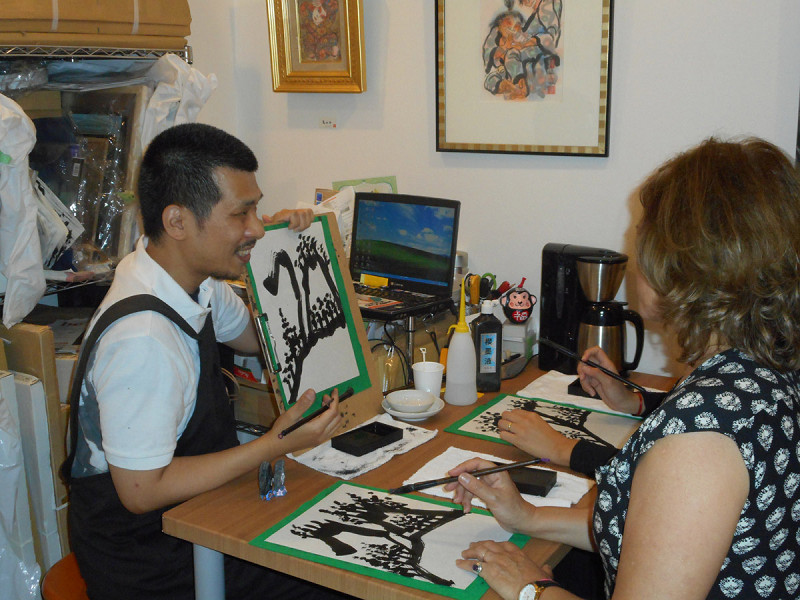 Sumie ink wash / black and white painting is one of the famous traditional culture in Japan. Simple and easy but so much fan.
In this activity, you'll be taught how to paint bamboo, san-sui landscape, and more in sumie painting. You'll paint 4-5 pieces in an hour in the class.
There are no mistakes in our sumi-e lesson. There is also no good or bad in painting because it's your masterpiece. That is sumi-e painting. All of you will have fun and of course children can also join. They might even be better than adults…they have an insatiable imagination. After the class, you will all be painters of sumi-e. Easy and fun! Let's try to paint!
Let's have some fun with sumie painting!

Cost : 2,000 yen per person (1h)
Includes materials and art instruments.
Start Time : 13:00/15:00/17:00
on open days except every Saturday and irregular holidays.
Please check out our web site for the information of open/close.
Location : Toyokuni Atelier Gallery
Capacity : 1-4 people
Place : Toyokuni Atelier Gallery (Tokyo, Japan:Map & Directions)
Instructor : Yuta Honda (the master of the gallery)
Credit card : Accepted(VISA, Master Card, American Express)

Attention :
Please just bring yourself. We take care of everything to paint. And please come in older clothing - Your clothes may get some paint on them. Friendly English speaker available.

Reservations and Inquiries
Toyokuni Atelier Gallery by HONDA WORKS
>>>Reservations
Please make a researvation for a class on e-mail. Please let me us 1.Your Name, 2.Number of persons, 3.Date and starting time.

>>>Details

Review
Sumi-e Class "Experience" Review *English
First time experience SUMIE(Review) *English subtitles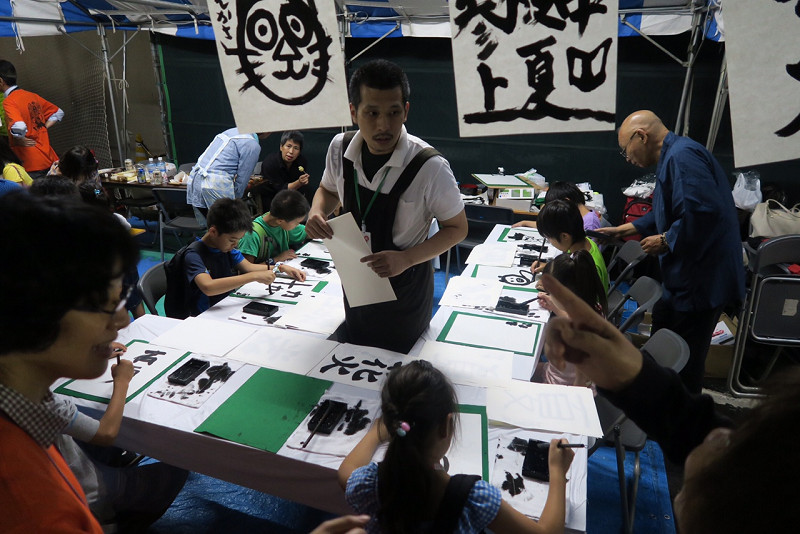 Sumie Doodle is painting in Sumi-ink with Fude brushes on Washi paper. That's so simple and easy. I have enjoyed it with a lot of children and the visitors to this country around everyday.
We can have Sumie Doodle classes EVERYWHERE. Please email us if you have an interest of this. Our purpose is spreading some fun with sumie on a traditional culture of Japan. Sumie Doodle can make your sad mood happy and fine in 15 mins. And it would save the world!!! Let's come together with us for our future!!
墨絵おえかきとは筆を使って墨で和紙に絵を描くことです。単純で簡単何も難しいことはありません。そんな墨絵おえかきを私は海外の方々やこどもたちと日々楽しんでいます。
墨絵を「筆を使って墨で和紙に絵を描く」と定義し絵を描く楽しさを追及したエンターテイメント性の高いプログラムです。子供向けと世代を超えて一緒に楽しめる親子(祖父母孫)向けにも適しています。2歳の子と80歳の方とが同じ絵を描いて楽しんだ実績があります。

>>>Details

メディア掲載
産経新聞WEB版 「「私だけ」訪日体験プランが外国人客に大受け 墨絵体験、相撲の朝稽古、芸者体験…」 (2016/9/4)
FMヨコハマ Sunstar Weekend Journey 出演(2017年2月5日22:00〜22:30放送(大阪近郊FM COCOLO:2/4(土)23:00〜))

We have a lot of Sumie ink wash paintings, woodcut prints, paintings on the rock, T-shirts and more. Also you can get postcards, mug cups, picture books(English subtitled), iPhone case and more. Let's get them as Japanese souvenir. And you can have some fun with sumie class Experience. You can be a sumie painter easily. Of course children can have some fun. too! Let's come enjoy it with all your family!
I'm looking forward to seeing YOU!
Thank you.

>>>Directions / Hours
Here's the original LINE Sticjers. Nyanda and Circlion are available!!
>>>より詳細を見る Details
各種デザイン承ります。
実績多数。墨絵も多彩に使用しオリジナリティあふれる高品質なデザインを安価にて提供いたします。

>>>より詳細を見る Details
皆様の応援お待ちしております。
お仕事・出会いなんでもお待ちしてます。周りに伝えていただくことでも助けになります。是非豊國アトリエに会いにいらしてください!
Please help me to do this project Sumie Doodle. You can help me in any way, giving me the chance to have a class. Everything you do helps me. And please come see me to the gallery! Thank you.

HONDA WORKS welcomes sponsorships from companies and organizations of all kinds. We are excited to offer our sponsors the benefits listed on right, and to discuss specific needs and oppotunities that further meet eachsponsor's needs.

(c)Toyokuni Honda, HONDA WORKS, 2017, All Right Reserved. Unauthorised reproduction,hiring, lending, performance and prohibited. Since 1999.
このページに掲載されている画像、および文章など著作に関わるものについての著作権は特に記載してあるものを除き、全てHONDA WORKSまたは本多豊國に属します。
無断での複製および転載は固く禁じます。画像等への直リンクはご遠慮ください。